Linking up With Doodle Bugs...Five For Friday
1. It was a short week of school. I'm happy that when I left on Wednesday, I had everything done to be ready for Monday!!!
2. Two snow days!! I love snow days! Thursday wasn't much fun to play outside, but yesterday was great. Needless to say, I am not a good snowboarder :( I keep trying.....I'm afraid I'm too old! This is NOT me in the photo :) I would love to be able to do something this cool, but just making it down the mountain (without any broken bones) on a snowboard would be awesome!
3. I hit 100 followers. This makes me so happy!
4. I got a new winter coat! I'm so excited. It was on clearance, and it is a boys coat, but it fits perfectly and it was on clearance...just in time for the snow!
5. I ordered a new book. My dissertation topic is on leadership and new literacies. This is my fun reading for now!!!
Thank you to Doodle Bugs Teaching for hosting the Friday Linky Party :)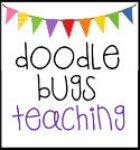 Click here to enter the 100 Follower Drawing!!!
a Rafflecopter giveaway