Jennifer from
Rowdy in First Grade
is having a linky party. All you do is tell something good at school and at home. I thought this sounded fun and SUPER positive! This is my 2nd linky party this week!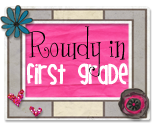 Something Good From School:
I left school on Friday, with everything crossed off my list! Of course, I still have things to do when I get back to work, but everything I needed to get done was completed.
Something Good From Home:
My mother-in-law got out of the hospital after 10 days! She had heart surgery and her recovery took a bit longer than expected. I'm so glad she is home. We have a spring break trip planned, and we want her to be able to come with us.